Gas Boiler Replacement Dublin
[Social9_Share]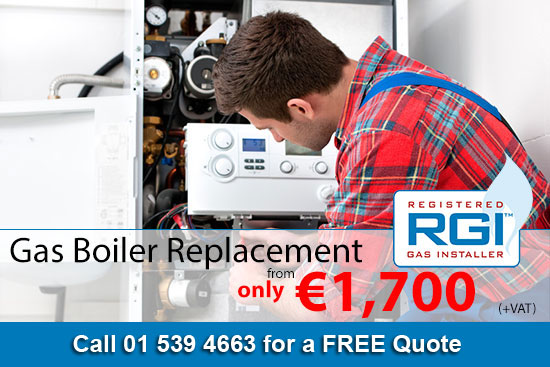 Do you have a boiler that is over 10 years old?
Affordable gas boiler replacement Dublin! Is your boiler beginning to struggle to heat your home to make it comfortable for you and your family? Then it may be time for you to have your gas boiler replaced. Gas Boiler Replacement is not as expensive as you may think. It can also save you money in the long run as a new boiler can run more efficiently and heat your home a lot quicker which will save you money on your gas bills.
As your gas Boiler gets older it may start to break down more frequently, may not run as effectively as it once did, (costing you more money on your gas bills) and the worst case scenario is that it could possibly develop a Carbon Monoxide Leak which unfortunately if it is not detected could cause hospitalisation or even fatalities.
Gas Boiler replacement prices start from €1,700 + VAT depending on the make and size of boiler that you are going to install for your heating system. Our team of expert engineers will advise you on the most adequate boiler for your requirements by surveying your home to ensure that you get the correct boiler.
Why choose us for your gas boiler replacement
At Plumber Services Dublin we pride ourselves on our expert gas boiler replacement services. We are R.G.I registered which is a legal requirement for any works carried out which involves gas. We will ensure that you are completely satisfied with any work that we carry out for you and will run through with you the controls of your new boiler.
Our services are excellent value for money. and value for money. We can offer all our gas replacement customers a very good deal on any future annual servicing of your boiler to keep your boiler running as efficiently as the day we installed it.
What you get in your Gas Boiler Replacement
We at Plumber Services Dublin take great pride and care in replacing your boiler with a boiler that is correct for your home. We ensure that the replacement process is carried out safely, correctly and with little disturbance to you. Ensuring our customers are 100% satisfied with our workmanship applies to every boiler that we replace.
What we include in your gas boiler replacement:
Free on site survey to determine the right boiler for you
Fully itemised quote including any grants & incentives that you may be entitled to
Removal of your old gas boiler
Supply and fit of your new boiler
Full Chemical System Flush
Full Boiler Commissioning
Book Your Gas Boiler Replacement on 01 539 4663/div>
If your gas bills are starting to increase and your boiler seems to be breaking down a lot more regularly then it may be time to replace yuor old boiler. Simply call 01 539 4663 and our Gas Boiler Replacement team will only be too happy to call out to you and offer a free, no-obligation quote. We will advise you on the correct boiler for you and your home so call D. Plumber Services Dublin now.